Be Prepared: Exchange Your Money for Foreign Currency
Buy Euros, Uk Pounds and Other Foreign Currency Before You Travel
We make currency exchange easy and quick!
When you plan a trip to a foreign country, you need to be prepared for a variety of circumstances. One of the most important things you will need as soon as you arrive in a foreign city is money! If you're traveling to more than one foreign country with multiple currencies, it can become difficult figuring out how to pay for goods and services during your trip.
Keeping track of the exchange rates and calculating whether you received the proper change can become tiresome and frustrating. The best course of action is to exchange your domestic currency for foreign currency before your departure. As a traveler, it's important to be able to purchase goods and services, including food, lodging, and transportation, in another country's national currency.
Visit one of our locations or call us to be prepared for your next trip.
We Exchange Foreign Currency at Competitive Rates
You Can Exchange Foreign Coins at a Fixed Rate Based on Weight at Any of Our Locations
We also buy back your American Express Traveler's Checks; Both USD and Foreign from Australia, Canada, Euro, and United Kingdom.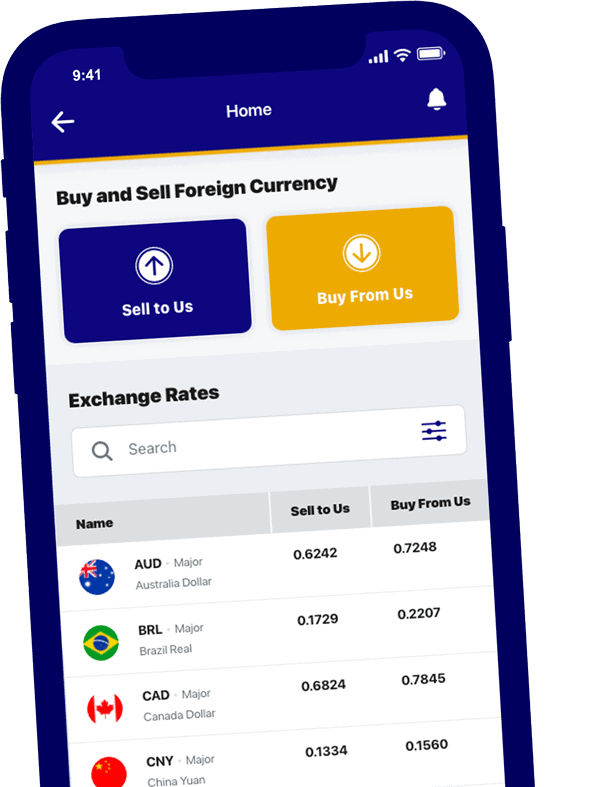 Currency Shipped to Your Home
Check live exchange rates and order currency right within our app and have it shipped to your home or business before traveling.
Get Notified When the App is Released!